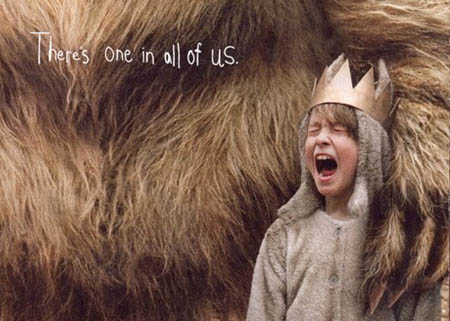 Max:
There were some buildings... There were these really tall buildings, and they could walk. Then there were some vampires. And one of the vampires bit the tallest building, and his fangs broke off. Then all his other teeth fell out. Then he started crying. And then, all the other vampires said, "Why are you crying? Weren't those just your baby teeth?" And he said, "No. Those were my grown-up teeth." And the vampires knew he couldn't be a vampire anymore, so they left him. The end.
Me:
I see you in me. Wanted to be loved by the ones I love. Wanted to build a dream for everyone. Wanted all your family around. Simple wishes from our childhood, given up but not forgotten. Only wishes. The helplessness helps us grow.
A father A mother A sister and Yourself. How they became wild things. How they burnt everything down. How you tried to start up things again. In vain. Just hard to please everybody. And you accept it, and so you are no longer a child.
Max:
I have a sadness shield that keeps out all the sadness, and it's big enough for all of us.